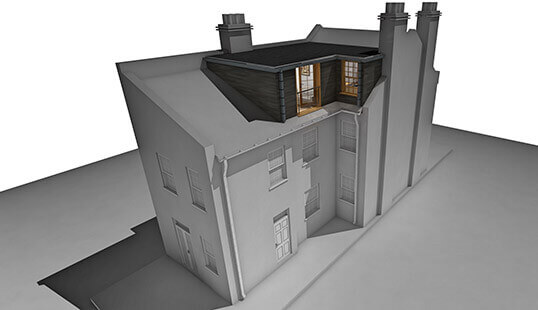 A loft conversion can be made use of as a study room, guest bedroom or even as a play room, adding both value and floor space to your property. There're a few main types of loft conversions and to make up your mind what kind of conversion will be the best for you, you'll require to think about the line and shape of your existing roof, the development rights you are permitted to and your budget.
Working with a professional architect can assist you to understand how to come up with the best and suitable plans for your home.
– Dormer Loft Conversion
This is the most popular type of loft conversion and has a structural extension that creates the shape of a box by projecting vertically from the existing roof's slope. Generally, the loft extension needs no changes and allows conventional windows to be installed. For the mid-terrace period properties, an L-shaped dormer is a common adaptation; an L-shaped dormer wraps around the rear and side of the property.
A gabled dormer is also worth considering. This may be a more attractive choice for the face of your property. However, it's a more expensive choice.
– Hip to Gable Loft Conversion
A hip to gable loft conversion creates a vertical wall by straightening an inwardly leaning end roof. It's suitable for detached and end of terrace homes. This little change of creating a vertical wall can make a significant difference to the feel of the inside of your living space. The demand for this type of loft conversion for homeowners has significantly increased.
– Mansard Loft Conversion
This loft conversion is built by raising the wall that you share with your neighbours. The roof continues to be flat whereas one outer wall leans gently inwards. Generally, mansards are found at the back of the house. In spite of them being suitable for a lot of houses, they're commonly used in terraced houses. However, the biggest con with mansards is that they're more expensive than the other types of loft conversions.
– Roof Light Loft Conversion
This is whereby the existing space isn't expanded or altered at all, but windows are simply added and floor reinforced to change the attic to a pleasant living space. This is suitable for when you don't wish to make any changes in structure to your property or when you're on a low budget. Unlike the other loft conversions, roof light loft conversion doesn't allow any more useful space.
If you're thinking about a loft conversion, these are the main types of loft conversion you should look out for. Also, you can consult a team of professionals for more guidance.